The Power of Service - Best-seller!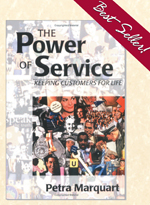 I can't tell you how often I have read a book on customer service to find it only covered limited aspects of the topic. My book is different. It is the most comprehensive customer service book published to date.
Perhaps it is because my book is so comprehensive that it is used at prestigious Hamline University in the MBA program and by 200 supervisors at Mayo Clinic in Rochester, Minnesota. It is in libraries and on executives' shelves in some of the most recognized companies in the world.
Here is what it covers:
Why service matters
How service is defined
The four basic cornerstones of service
The need for change
How culture affects service
The need to re-align hierarchies
The impact of systems and policies on service
The importance of a service mission and vision - and the difference
What you promise to your customers
The need to manage "Moments of Truth"
The importance of hiring the right people and training the right things
The power of recognizing and rewarding great service
The need to empower people to perform
How to use personal power to inspire greatness
The impact of self-esteem and spirit on service
How stress works as a service barrier
The need to communicate and measure service
How to view the telephone as a service instrument
The importance of dealing effectively with complaints
Leadership - the touchstone of great service
Customized Programs
Petra has written customer service training programs for some of the most recognized organizations in the country. These premier training programs have been written specifically with the organization's customers, employees and service goals in mind. She'd love to do the same for you.

Mall of America

Casinos America

Honeywell

Metro Dentalcare

MN Dept. of Administration

US Department of Homeland Security
Additional training programs written for:
Milwaukee Child Welfare Partnership for Professional Development
US Bank
Fairview University Health System
United Health Group
Target Center Arena
Buy the Book!
The Power of Service - Keeping Customers for Life
Testimonials
"Petra tailored her presentation perfectly for our management group. It was the ideal kickoff for Bachman's effort to reinvigorate our customer focused culture."

Paul Bachman
President, Bachman's
"Petra is able to engage her audience in a manner that allows each individual to look non-judgmentally at their job performance and walk away saying, service is the only product you cannot recall".

Larry Winter

"Petra was a wonderful delight to work with developing the Casino America, Inc. Guest Service Training program. I found her to be flexible and creative, while meeting the needs for customization, an essential qualification for the successful completion of our project."

Robert F. Boone Vice President, Human Resources - Isle of Capri Casino's Inc.